Consider IT, is thrilled to announce its recent achievement as an NCSC (National Cyber Security Centre) Assured Service Provider for Cyber Essentials. This remarkable milestone makes Consider IT the one of the first Managed Service Providers in Scotland to obtain this prestigious certification, and the third Scottish company overall.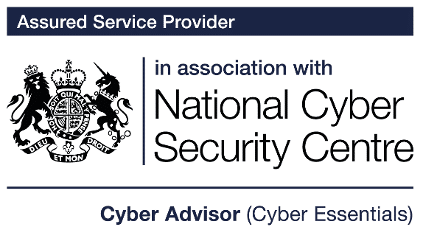 The NCSC Assured Service Provider scheme provides organisations with a means to assess and demonstrate their cybersecurity posture to clients and stakeholders. By undergoing a rigorous evaluation process, Consider IT has proven its commitment to delivering top-notch cybersecurity services, offering clients the confidence and peace of mind that their sensitive data and systems are protected with the highest level of expertise.
The certification process involved a comprehensive assessment of Consider IT's cybersecurity practices, infrastructure, and policies. The evaluation was conducted by the NCSC, the UK government's authority on cybersecurity, which recognised the company's exceptional dedication to maintaining robust security measures.
At the forefront of this achievement is Consider IT's Head of Cybersecurity, Andy Maclaren. His extensive experience, deep knowledge of cybersecurity best practices, and dedication to ensuring the highest standards have been instrumental in successfully steering the company through the assessment process. Andy's expertise has been formally acknowledged and validated by the NCSC scheme, further solidifying Consider IT's position as a trusted and reliable cybersecurity partner.
"We are incredibly proud to be one of the first Managed Service Providers in Scotland to receive the NCSC Assured Service Provider certification. This achievement is a testament to our team's unwavering commitment to cybersecurity excellence," said Stuart Gilbertson, Managing Director of Consider IT. "Our clients can trust that their cybersecurity needs are in the hands of experts who prioritise the safety and protection of their digital assets."
Consider IT's focus on continuous improvement and staying ahead of the ever-evolving cybersecurity landscape has enabled them to achieve this coveted status. The company remains committed to delivering exceptional cybersecurity services that align with the industry's highest standards.
About Consider IT:
Consider IT is a leading Managed Service Provider headquartered in Edinburgh. The company offers a comprehensive suite of IT and cybersecurity solutions tailored to meet the unique needs of its diverse clientele. With a team of dedicated experts and a commitment to excellence, Consider IT has earned a reputation for providing reliable, innovative, and secure IT services.