TalkTalk have once again shown their inability to keep customer data safe. Police are now investigating what TalkTalk term a "significant and sustained cyber-attack" on their website.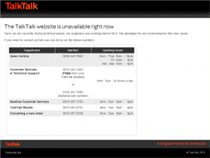 Their website currently shows the page above highlighting the fact the website is unavailable right now.
An official statement was released by TalkTalk on 22/10/2015: View Statement in Full.
What the statement doesn't highlight is what customers of TalkTalk need to do now.
The investigation is ongoing, but unfortunately there is a chance that some of the following data may have been accessed:
Names
Addresss
Dates of birth
Email addresses
Telephone numbers
TalkTalk account information
Credit card details and/or bank details
TalkTalk have also created a help page here for those who may have been affected: http://help2.talktalk.co.uk/oct22incident
Please be aware, TalkTalk will NEVER call customers and ask you to provide bank details unless we have already had specific permission from you to do so.
Our Managing Director, Stuart Gilbertson, said: "This is the third time TalkTalk have been hacked in a year. Yes, they're cheap, but is it really worth the hassle and inconvenience to consumers? At what point do we start heavily penalising big corporations for being inept at keeping their systems secure. Once is excusable, but three times really is pushing the boundaries of incompetence."