We have noticed a large number of calls yesterday and today in relation to users on Windows 7 where the computer sits stuck on a "Starting Windows" page. The common denominator between all of these incidents is that the computers had AVG Anti-Virus installed.
Whilst we wait on AVG getting back to us with news on this issue we have been resolving these incidents by booting the computers in to Safe Mode, un-installing AVG completely, then booting back into Windows in normal mode before reinstalling AVG.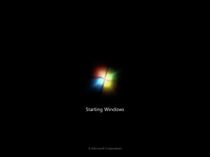 This is not the first time Anti-Virus programs have caused catastrophic issues with Windows PCs. In April 2010 a McAfee pushed out an update that caused a false positive identification, and incorrect deletion, of the critical Windows system file svchost.exe.
Edinburgh based IT Support Technician Ryan Morrison said: "I've been dealing with a few cases this morning and yesterday afternoon where the computer just fails to boot. I haven't had time to confirm this yet, but it looks to be caused by AVG preventing a Windows Update from applying and causing the boot loader to get stuck on Starting Windows."
After the system has sat on the "Starting Windows" screen for a while the PC will then automatically go into the Windows Recovery mode.
In some instances, re-installing AVG after safely removing it causes the problem to reoccur. We await AVG's response to our report and we will update this page as soon as we have more information.
Update as of 24/06: We received an update from our AVG Account Manager which says:
We have a problem the past week however we have been advised to ask all partners to uninstall Trusteer Rapport from the customers computer using safe mode as we think this may be causing the problem. If you are unable to uninstall Trusteer Rapport, you can temporarily uninstall AVG following the instructions in Uninstall AVG.