Last year we moved from the Firefox browser to Google Chrome; and boy is it fast! One thing we have missed though is the ability to subscribe to various RSS feeds to get the latest news and updates from our various favourite websites. In Firefox, we could do this by just clicking on the RSS logo and asking Firefox to dock the feed onto the top navigation bar as shown here: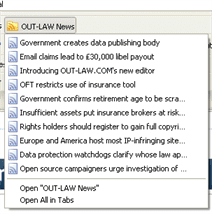 We really missed this functionality in Chrome, so asked our friend and the guy that actually pushed us to move over to Chrome (Steven McCullagh) if there was a plug-in available to add this feature onto Chrome. Well there is!
RSS Live Links is the plug-in of choice that lets you do almost the exact same things as the default Firefox options let you do. There are however, many more benefits with the RSS Live Links plug-in.

RSS Live Links not only displays your chosen feeds in a neat and tidy way (rather than consuming your entire navigation bar at the top of your browser) but it also offers a plethora of functionality such as opening all unread news feeds, audio notification when a new article is posted, and a ridiculous amount of customisation features that really lets you view your RSS feeds how you want to.
Google Chrome is a web-browser produced and developed by the people at Google. If you've not already tried it, and you're still stuck on a slow clunky browser, why not spend half an hour today giving it a whirl? Google Chrome can be downloaded here.