Consider IT creates a sleek office suite for disaster recovery in Edinburgh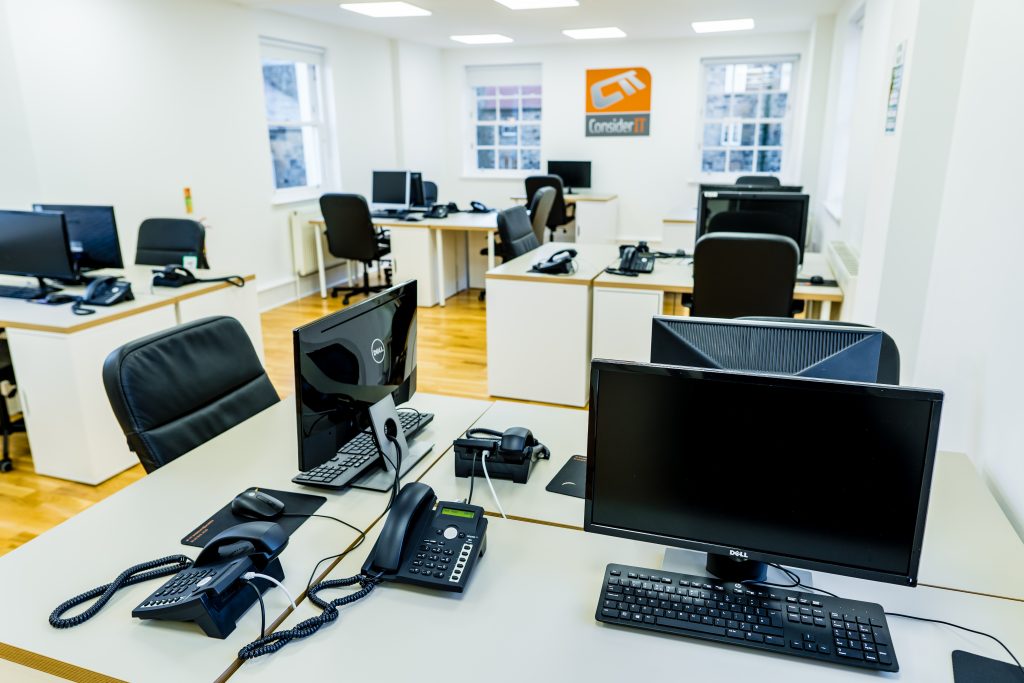 A DYNAMIC IT support firm has created a stunning 18-desk office in a prime city location – in the hope it will never be used.
Staff at Consider IT in Edinburgh have dubbed the sleek workplace a "ghost office" because the stylish desks and chairs are eerily empty and the powerful PCs at each workstation are left on, with no users, for updates and testing.
Despite investing heavily in an office set up which would be the envy of countless small businesses across the city, the team at Consider IT hope it will remain empty – although it can be operational with just a few moments notice.
Now the man who took the decision to create the bizarre, Mary Celeste-style, deserted office suite says it is a gamble that has paid off and has brought in a raft of valuable new business.
Dad of two Stuart Gilbertson, founder and MD of Consider IT said: "It's our disaster recovery suite and we put loads of thought, care and attention into creating it. We are very proud of the set up.
"This is a vital insurance policy for those clients who are signed up for our disaster recovery service. If something catastrophic happens in their business, they have peace of mind knowing that their team can be back at work within minutes – with access to all of their computer systems, files and phones as if they were working at their own office.
"Of course, like most insurance policies, we hope it is never needed. The longer our Disaster Recovery Suite lies empty, the happier everyone can be. We know how weird it seems to have such an attractive office space lying empty for months on end. But when it is needed, it will be a genuine lifeline.
"The ability to quickly get a team back to work after a fire, flood or similar disaster can be the thing that helps a business to survive. Giving staff a pleasant, temporary work environment after that kind of trauma is also incredibly important."
The firm has around 70 clients across Edinburgh, Glasgow and London, and since being founded in 2007, it has enjoyed continuous growth and has built up a £1.2m-a-year turnover.
Its fleet of orange and white branded support vehicles have become a familiar sight across the city, with its team of highly qualified technicians working with many of the city's best-known SMEs, including the Faculty of Advocates, The Federation for Industry Sector Skills and Standards, Nile and Par Equity.
Stuart, 33, a computer networks graduate from Edinburgh Napier University, recently took the bold decision to move the flourishing IT company into a prominent office building in the heart of Leith's bustling docklands.
Despite the huge cost increases and other risk of moving from modest 1400 sq ft offices into a plush new setting of over 3550 sq ft, Stuart believed the gamble was worth it to underline his firm's business continuity credentials.
The former Broughton High School pupil added: "It was a massive risk and there were points where I thought we had bitten off more than we could chew. But we needed to make a big, splashy, bold statement to set ourselves apart that reflected the superior service that we offer.
"We've made our name as an IT support company, complete IT infrastructures with intricate networks, hosting high end servers and workstations.
"But we are so much more than that and this really helps define us by making it absolutely clear how committed we are to business continuity and being recognised as the gold standard.
"It's a fantastic space, with some of the best and most sought-after views in Leith. So, the irony isn't lost us on us that it simply sits empty all the time.
"But we now bring potential clients to see the disaster recovery suite for themselves and often that is the clincher for them. They can see we are serious, that we have got their backs. This simply isn't a service that our rivals can offer.
"In the past six months alone, we have signed up at least five major clients on the strength of our disaster recovery suite, as well as the other, robust business continuity services we offer, including data backup services and IT managed services."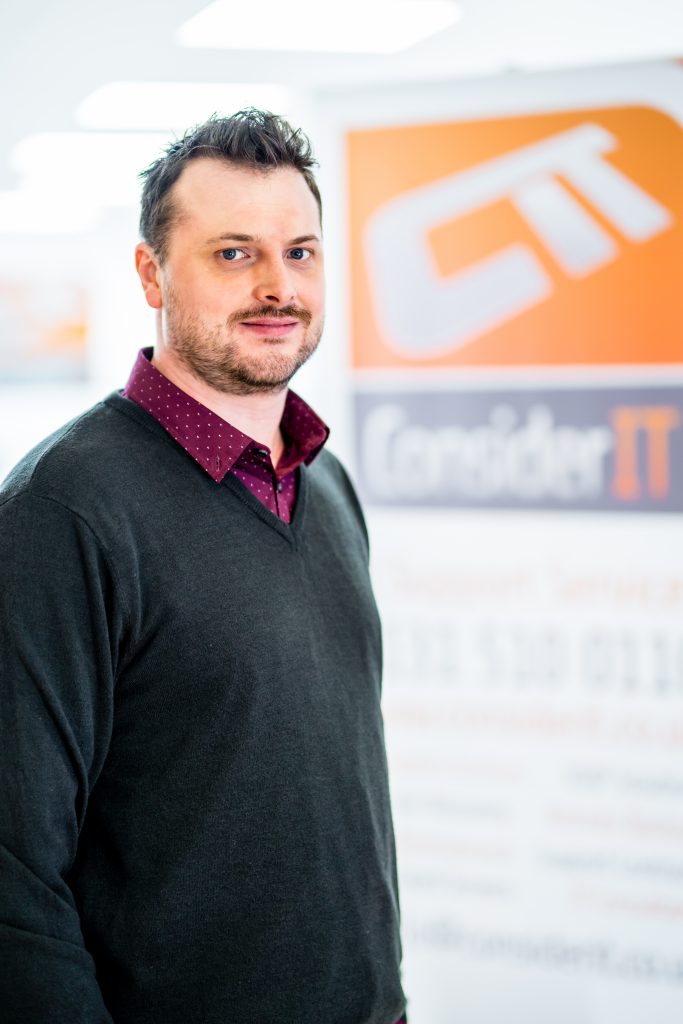 Stuart says such disaster recovery services are often associated with giant firms like IBM and thought to be out of reach for smaller businesses. However, Consider IT works predominantly with businesses which have 20-300 staff.
The disaster recover floor also boast a chill out room, a pool table, a state-of-the-art meeting room for up to15 people which also offers advanced presentation and teleconferencing facilities. There is also a kitchen, a bar and even a shower area.
The space has to be carefully maintained and regularly tested. But while it lies empty, Consider IT does offer use of the impressive meeting room to clients. Stuart says many have taken up the chance to use the facility to host important meetings and private negotiations – some of which are international with the board rooms high tech conference set up.
He added: "We also have our own offices on the floor below which are also well-appointed. Our team were delighted when we moved and have been happier and more productive since. All in all the gamble has paid off handsomely."
With growth, driven by word of mouth recommendations from satisfied clients, Consider IT has become the 'go to' IT support company in the city, recognised as a leader in daily support, VOIP provision and cyber security.
The friendly team pride themselves on a reputation for no-nonsense and jargon-free communication which its clients love. While IT support is a serious business, the staff are also a quirky and fun-loving team.
Par Equity has signed up to Consider IT's Disaster Recovery Suite, not just to cover themselves for the risk of losing access their office as a result of a fire or power cuts, for example, but as part of their continuous improvement programme which focuses on cyber-security, client service and business continuity.
Could your business benefit from disaster recovery in Edinburgh?
Get in touch with us on 0131 510 0110 or hello@considerit.com to find out more about our Disaster Recovery Suite and IT support services.