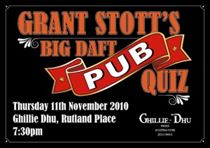 Consider IT along with fellow friends, won the Forth One "Grant Stott's Big Daft Pub Quiz"!
Leading at the start, and then looking as though all was lost, we eventually came in with an astounding 129 points to take the winners trophy!
Pictures of the fantastic night out are on our Facebook page: Consider IT Limited Facebook and on Forth One's Gallery
We also filmed Grant announcing the winners, and we were as surprised as everyone else: DENSA win Grant Stott's Pub Quiz!